{"id":4024147902550,"title":"SKINNY Drops","handle":"skinny-drops","description":"\u003cmeta charset=\"utf-8\"\u003e\u003cmeta charset=\"utf-8\"\u003e\u003cmeta charset=\"utf-8\"\u003e\n\u003cp\u003e\u003cspan\u003eDao Drops \u003cstrong\u003eSKINNY DROPS\u003c\/strong\u003e are specifically formulated to target stubborn body fat and aid in the removal of accumulated toxins. This herbal blend of 7 all natural herbs assists with body detoxification, boosts metabolism, increases energy, and can help men \u0026amp; women reach (or sustain) their weight loss goals. \u003c\/span\u003e\u003c\/p\u003e\n\u003cmeta charset=\"utf-8\"\u003e\n\u003cp\u003e\u003cspan\u003e\u003cstrong\u003eSKINNY DROPS is a Natural Fat Burner Expertly Designed To:\u003c\/strong\u003e\u003cb\u003e\u003cbr\u003e\u003c\/b\u003e💪 Boost Metabolism\u003cbr\u003e🌿 Promote Natural Weight Loss \u003cbr\u003e🙅‍♀️ Reduce Bloating and Water Retention\u003cbr\u003e🍪 Decrease Unhealthy Cravings\u003c\/span\u003e\u003c\/p\u003e\n\u003cp\u003e\u003cspan style=\"color: #000000;\" data-mce-style=\"color: #000000;\"\u003e\u003cb\u003eSKINNY DROPS Ingredients:\u003c\/b\u003e\u003c\/span\u003e\u003cspan\u003e\u003cbr\u003e\u003c\/span\u003e\u003cspan style=\"color: #000000;\" data-mce-style=\"color: #000000;\"\u003e\u003cstrong\u003e\u003cspan style=\"background-color: #ffffff;\" data-mce-style=\"background-color: #ffffff;\"\u003e🌿 Green Tea Leaf:\u003c\/span\u003e\u003c\/strong\u003e Scientifically proven to boost metabolism and enhance fat burning.\u003c\/span\u003e\u003cbr\u003e\u003cspan style=\"color: #000000;\" data-mce-style=\"color: #000000;\"\u003e\u003cstrong\u003e🌼 Dandelion Root:\u003c\/strong\u003e Promotes weight loss by enhancing the body's ability to remove toxic buildup.\u003c\/span\u003e\u003cbr\u003e\u003cspan style=\"color: #000000;\" data-mce-style=\"color: #000000;\"\u003e\u003cstrong\u003e🌾 Fennel Seed:\u003c\/strong\u003e Promotes weight loss and improves digestive health.\u003c\/span\u003e\u003cbr\u003e\u003cspan style=\"color: #000000;\" data-mce-style=\"color: #000000;\"\u003e\u003cstrong\u003e❄️ Peppermint Leaf:\u003c\/strong\u003e Proven to aid digestion and offer benefits for digestive health. \u003c\/span\u003e\u003cbr\u003e\u003cspan style=\"color: #000000;\" data-mce-style=\"color: #000000;\"\u003e\u003cstrong\u003e🌱 Tulsi:\u003c\/strong\u003e A powe\u003c\/span\u003erful stress relieving adaptogen known to naturally improve energy levels.\u003cbr\u003e\u003cstrong\u003e\u003cspan style=\"background-color: #ffffff;\" data-mce-style=\"background-color: #ffffff;\"\u003e🌿\u003cspan\u003e \u003c\/span\u003e\u003c\/span\u003eNettle Leaf:\u003c\/strong\u003e A powerful detoxifying herb that helps flush the kidneys, reducing excess water retention. \u003cstrong\u003e\u003cbr\u003e💮 Licorice Root:\u003c\/strong\u003e Used to soothe the digestive tract and for help repairing the stomach lining. \u003cbr\u003e\u003c\/p\u003e\n\u003cmeta charset=\"utf-8\"\u003e\u003cmeta charset=\"utf-8\"\u003e\n\u003cp\u003e\u003cstrong\u003eOther Ingredients:\u003cspan\u003e \u003c\/span\u003e\u003cspan style=\"font-weight: normal;\" data-mce-style=\"font-weight: normal;\"\u003eVegetable palm glycerin and crystal clear purified water\u003c\/span\u003e\u003c\/strong\u003e\u003cbr\u003e\u003c\/p\u003e\n\u003cp\u003e\u003cstrong\u003eNote:\u003c\/strong\u003e\u003cem\u003e SKINNY Drops contain natural caffeine from Green Tea Leaf.\u003c\/em\u003e\u003cbr\u003e\u003c\/p\u003e\n\u003cmeta charset=\"utf-8\"\u003e\n\u003cp\u003e\u003cb\u003eHow To Use: 2 full squeezes of dropper in water, tea or juice. 1-2 times daily\u003c\/b\u003e\u003c\/p\u003e\n\u003cp\u003eHere at Dao Drops, we believe in full body health \u0026amp; wellness. When using our best-selling \u003cstrong\u003eSKINNY DROPS\u003c\/strong\u003e, you will receive added benefit when you incorporate healthy diet \u0026amp; movement choices while taking our herbal supplements.\u003cbr\u003e\u003cbr\u003e\u003cem\u003eSafety Information: Pregnant or nursing mothers and individuals with a known medical condition should consult a physician before using this or any dietary supplement. \u003c\/em\u003e\u003cbr\u003e\u003cbr\u003e\u003cem\u003eLegal Disclaimer: These statements have not been evaluated by the Food \u0026amp; Drug Administration. This product is not intended to diagnose, treat, cure or prevent any disease or health condition. \u003c\/em\u003e\u003cem data-mce-fragment=\"1\"\u003eThere is no guarantee of specific results and success can vary by each individual.\u003cbr\u003e\u003cbr\u003e\u003cmeta charset=\"utf-8\"\u003eProduct should be stored in a cool, dark place.\u003c\/em\u003e\u003cbr\u003e\u003c\/p\u003e\n\u003cul\u003e\u003c\/ul\u003e\n\u003cmeta charset=\"utf-8\"\u003e\u003cmeta charset=\"utf-8\"\u003e\n\u003cul\u003e\u003c\/ul\u003e\n\u003cul\u003e\u003c\/ul\u003e\n\u003cul\u003e\u003c\/ul\u003e","published_at":"2019-09-03T22:10:45-07:00","created_at":"2019-09-03T14:23:47-07:00","vendor":"daodrops","type":"FORMULAS","tags":["FORMULA","Foundational Wellness","gs","LAUNCH 2","SALE","SKINNY"],"price":2000,"price_min":2000,"price_max":4000,"available":true,"price_varies":true,"compare_at_price":2000,"compare_at_price_min":2000,"compare_at_price_max":8000,"compare_at_price_varies":true,"variants":[{"id":31399460175958,"title":"1 Week","option1":"1 Week","option2":null,"option3":null,"sku":"SKINNY-.5oz","requires_shipping":true,"taxable":true,"featured_image":null,"available":true,"name":"SKINNY Drops - 1 Week","public_title":"1 Week","options":["1 Week"],"price":2000,"weight":45,"compare_at_price":2000,"inventory_management":"shopify","barcode":"692041215835"},{"id":31399460143190,"title":"2 Weeks","option1":"2 Weeks","option2":null,"option3":null,"sku":"SKINNY-1oz","requires_shipping":true,"taxable":true,"featured_image":null,"available":true,"name":"SKINNY Drops - 2 Weeks","public_title":"2 Weeks","options":["2 Weeks"],"price":3000,"weight":91,"compare_at_price":4000,"inventory_management":"shopify","barcode":"692041216016"},{"id":32005762482262,"title":"4 Weeks","option1":"4 Weeks","option2":null,"option3":null,"sku":"SKINNY-2oz","requires_shipping":true,"taxable":true,"featured_image":null,"available":true,"name":"SKINNY Drops - 4 Weeks","public_title":"4 Weeks","options":["4 Weeks"],"price":4000,"weight":176,"compare_at_price":8000,"inventory_management":"shopify","barcode":"692041993733"}],"images":["\/\/cdn.shopify.com\/s\/files\/1\/0055\/6888\/8918\/products\/daodrops-formulas-skinny-drops-15843005136982.jpg?v=1602009801","\/\/cdn.shopify.com\/s\/files\/1\/0055\/6888\/8918\/products\/daodrops-formulas-skinny-drops-15911341621334.jpg?v=1602009801","\/\/cdn.shopify.com\/s\/files\/1\/0055\/6888\/8918\/products\/daodrops-formulas-skinny-drops-15843423879254.jpg?v=1602009801","\/\/cdn.shopify.com\/s\/files\/1\/0055\/6888\/8918\/products\/daodrops-formulas-skinny-drops-15536987078742.jpg?v=1602009801"],"featured_image":"\/\/cdn.shopify.com\/s\/files\/1\/0055\/6888\/8918\/products\/daodrops-formulas-skinny-drops-15843005136982.jpg?v=1602009801","options":["Size"],"media":[{"alt":"daodrops FORMULAS SKINNY Drops","id":8016489840726,"position":1,"preview_image":{"aspect_ratio":1.0,"height":2233,"width":2233,"src":"https:\/\/cdn.shopify.com\/s\/files\/1\/0055\/6888\/8918\/products\/daodrops-formulas-skinny-drops-15843005136982.jpg?v=1600990762"},"aspect_ratio":1.0,"height":2233,"media_type":"image","src":"https:\/\/cdn.shopify.com\/s\/files\/1\/0055\/6888\/8918\/products\/daodrops-formulas-skinny-drops-15843005136982.jpg?v=1600990762","width":2233},{"alt":"daodrops FORMULAS SKINNY Drops","id":8084867547222,"position":2,"preview_image":{"aspect_ratio":1.0,"height":1080,"width":1080,"src":"https:\/\/cdn.shopify.com\/s\/files\/1\/0055\/6888\/8918\/products\/daodrops-formulas-skinny-drops-15911341621334.jpg?v=1602009800"},"aspect_ratio":1.0,"height":1080,"media_type":"image","src":"https:\/\/cdn.shopify.com\/s\/files\/1\/0055\/6888\/8918\/products\/daodrops-formulas-skinny-drops-15911341621334.jpg?v=1602009800","width":1080},{"alt":"daodrops FORMULAS SKINNY Drops","id":8016910975062,"position":3,"preview_image":{"aspect_ratio":1.0,"height":1080,"width":1080,"src":"https:\/\/cdn.shopify.com\/s\/files\/1\/0055\/6888\/8918\/products\/daodrops-formulas-skinny-drops-15843423879254.jpg?v=1601000965"},"aspect_ratio":1.0,"height":1080,"media_type":"image","src":"https:\/\/cdn.shopify.com\/s\/files\/1\/0055\/6888\/8918\/products\/daodrops-formulas-skinny-drops-15843423879254.jpg?v=1601000965","width":1080},{"alt":"daodrops FORMULAS SKINNY Drops","id":8016912744534,"position":4,"preview_image":{"aspect_ratio":1.0,"height":1200,"width":1200,"src":"https:\/\/cdn.shopify.com\/s\/files\/1\/0055\/6888\/8918\/products\/daodrops-formulas-skinny-drops-15536987078742.jpg?v=1601000997"},"aspect_ratio":1.0,"height":1200,"media_type":"image","src":"https:\/\/cdn.shopify.com\/s\/files\/1\/0055\/6888\/8918\/products\/daodrops-formulas-skinny-drops-15536987078742.jpg?v=1601000997","width":1200}],"content":"\u003cmeta charset=\"utf-8\"\u003e\u003cmeta charset=\"utf-8\"\u003e\u003cmeta charset=\"utf-8\"\u003e\n\u003cp\u003e\u003cspan\u003eDao Drops \u003cstrong\u003eSKINNY DROPS\u003c\/strong\u003e are specifically formulated to target stubborn body fat and aid in the removal of accumulated toxins. This herbal blend of 7 all natural herbs assists with body detoxification, boosts metabolism, increases energy, and can help men \u0026amp; women reach (or sustain) their weight loss goals. \u003c\/span\u003e\u003c\/p\u003e\n\u003cmeta charset=\"utf-8\"\u003e\n\u003cp\u003e\u003cspan\u003e\u003cstrong\u003eSKINNY DROPS is a Natural Fat Burner Expertly Designed To:\u003c\/strong\u003e\u003cb\u003e\u003cbr\u003e\u003c\/b\u003e💪 Boost Metabolism\u003cbr\u003e🌿 Promote Natural Weight Loss \u003cbr\u003e🙅‍♀️ Reduce Bloating and Water Retention\u003cbr\u003e🍪 Decrease Unhealthy Cravings\u003c\/span\u003e\u003c\/p\u003e\n\u003cp\u003e\u003cspan style=\"color: #000000;\" data-mce-style=\"color: #000000;\"\u003e\u003cb\u003eSKINNY DROPS Ingredients:\u003c\/b\u003e\u003c\/span\u003e\u003cspan\u003e\u003cbr\u003e\u003c\/span\u003e\u003cspan style=\"color: #000000;\" data-mce-style=\"color: #000000;\"\u003e\u003cstrong\u003e\u003cspan style=\"background-color: #ffffff;\" data-mce-style=\"background-color: #ffffff;\"\u003e🌿 Green Tea Leaf:\u003c\/span\u003e\u003c\/strong\u003e Scientifically proven to boost metabolism and enhance fat burning.\u003c\/span\u003e\u003cbr\u003e\u003cspan style=\"color: #000000;\" data-mce-style=\"color: #000000;\"\u003e\u003cstrong\u003e🌼 Dandelion Root:\u003c\/strong\u003e Promotes weight loss by enhancing the body's ability to remove toxic buildup.\u003c\/span\u003e\u003cbr\u003e\u003cspan style=\"color: #000000;\" data-mce-style=\"color: #000000;\"\u003e\u003cstrong\u003e🌾 Fennel Seed:\u003c\/strong\u003e Promotes weight loss and improves digestive health.\u003c\/span\u003e\u003cbr\u003e\u003cspan style=\"color: #000000;\" data-mce-style=\"color: #000000;\"\u003e\u003cstrong\u003e❄️ Peppermint Leaf:\u003c\/strong\u003e Proven to aid digestion and offer benefits for digestive health. \u003c\/span\u003e\u003cbr\u003e\u003cspan style=\"color: #000000;\" data-mce-style=\"color: #000000;\"\u003e\u003cstrong\u003e🌱 Tulsi:\u003c\/strong\u003e A powe\u003c\/span\u003erful stress relieving adaptogen known to naturally improve energy levels.\u003cbr\u003e\u003cstrong\u003e\u003cspan style=\"background-color: #ffffff;\" data-mce-style=\"background-color: #ffffff;\"\u003e🌿\u003cspan\u003e \u003c\/span\u003e\u003c\/span\u003eNettle Leaf:\u003c\/strong\u003e A powerful detoxifying herb that helps flush the kidneys, reducing excess water retention. \u003cstrong\u003e\u003cbr\u003e💮 Licorice Root:\u003c\/strong\u003e Used to soothe the digestive tract and for help repairing the stomach lining. \u003cbr\u003e\u003c\/p\u003e\n\u003cmeta charset=\"utf-8\"\u003e\u003cmeta charset=\"utf-8\"\u003e\n\u003cp\u003e\u003cstrong\u003eOther Ingredients:\u003cspan\u003e \u003c\/span\u003e\u003cspan style=\"font-weight: normal;\" data-mce-style=\"font-weight: normal;\"\u003eVegetable palm glycerin and crystal clear purified water\u003c\/span\u003e\u003c\/strong\u003e\u003cbr\u003e\u003c\/p\u003e\n\u003cp\u003e\u003cstrong\u003eNote:\u003c\/strong\u003e\u003cem\u003e SKINNY Drops contain natural caffeine from Green Tea Leaf.\u003c\/em\u003e\u003cbr\u003e\u003c\/p\u003e\n\u003cmeta charset=\"utf-8\"\u003e\n\u003cp\u003e\u003cb\u003eHow To Use: 2 full squeezes of dropper in water, tea or juice. 1-2 times daily\u003c\/b\u003e\u003c\/p\u003e\n\u003cp\u003eHere at Dao Drops, we believe in full body health \u0026amp; wellness. When using our best-selling \u003cstrong\u003eSKINNY DROPS\u003c\/strong\u003e, you will receive added benefit when you incorporate healthy diet \u0026amp; movement choices while taking our herbal supplements.\u003cbr\u003e\u003cbr\u003e\u003cem\u003eSafety Information: Pregnant or nursing mothers and individuals with a known medical condition should consult a physician before using this or any dietary supplement. \u003c\/em\u003e\u003cbr\u003e\u003cbr\u003e\u003cem\u003eLegal Disclaimer: These statements have not been evaluated by the Food \u0026amp; Drug Administration. This product is not intended to diagnose, treat, cure or prevent any disease or health condition. \u003c\/em\u003e\u003cem data-mce-fragment=\"1\"\u003eThere is no guarantee of specific results and success can vary by each individual.\u003cbr\u003e\u003cbr\u003e\u003cmeta charset=\"utf-8\"\u003eProduct should be stored in a cool, dark place.\u003c\/em\u003e\u003cbr\u003e\u003c\/p\u003e\n\u003cul\u003e\u003c\/ul\u003e\n\u003cmeta charset=\"utf-8\"\u003e\u003cmeta charset=\"utf-8\"\u003e\n\u003cul\u003e\u003c\/ul\u003e\n\u003cul\u003e\u003c\/ul\u003e\n\u003cul\u003e\u003c\/ul\u003e"}
Customer Reviews
Write a Review
Ask a Question
Filter Reviews:
drops
weight
appetite
bottle
water
energy
metabolism
diet
review
results
11/12/2020
Lizz
United States
I'm the most skeptical of skeptics
THIS ACTUALLY WORKS!!! I am always so super skeptical of everything weight loss but omg! This was my last effort to lose some extra weight before my wedding. I've been using this for almost two weeks and then suddenly I'm down 4 lbs already! No lies, no extra hype, it just actually works. Also it doesn't taste like anything so that's a huge plus!
11/09/2020
Renee G.
United States
DAODrops
The Skinny drops help curb my cravings and gives me energy in the afternoon hours when I usually start reaching for unhealthy, unplanned snacks. Now I reach for DAO Skinny Drops instead! They also add a little bit of good flavor to my water!
09/25/2020
Niqua S.
United States
Awesome Drops
These drops work best when paired with the DETOX drops, I also use them with the ENERGY drops as well. I have lost some inches over time, I can tell because I can slip my pants off without even undoing the button or the zipper! Sounds wild but it's true! I will continue to use these drops. My mom also uses them too and I can see the results on her as well!
08/06/2020
Luv_Ags
United States
I think it's a great product!
I started my drops on 7/1/20, I used them twice a day. I used total of 6 x 7oz SkinnyDrops. I ate better, I tried avoid snacking, I worked out or ran almost every day for at least 30min. I drank plenty of water, ate lot of fruits. I love beer but I didn't have any through the entire month of July. In one month I went from 163.8 lbs to 155 lbs. I don't know if it was the drops that boost my metabolism, maybe my hard work and determination to lose weight. But whatever it was it worked! I felt that SkinnyDrops did help suppress my appetite mostly in the morning. I've been without the drops for couple of weeks now and I'm still doing my best with better food choices and regular work outs. I just ordered 3 more bottles to see if I notice any difference while taking it and when I don't. Wishing they were just a bit cheaper bc one 7oz bottle of using twice a day last me 4 days.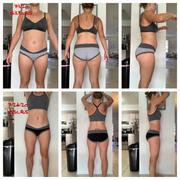 02/19/2020
Courtney P.
United States
LOVE
I'm not really sure what it is with these drops but I got to a stopping point in my weight loss journey where the water weight and first forty pounds were shed but nothing more. (before starting these drops) I began these drops a month ago, taking as directed and -OMG- I am losing weight like crazy now. I'm down another fourteen pounds and I feel so great. Idk if it's water weight or what, but I'm seeing the results I have been so desperately wanting to see for a while. The drops taste really good also, tea flavored which I think is what they are (green tea?) Anyway, my only request and it's a MUST. MAKE LARGER BOTTLES! Love these, purchased three more, they don't last long at all but for the price -I'm completely satisfied for once in my life. (yes I'm one of those women who have tried everything) No jitters, sickness, or anything of that nature. It cleans your system right out, so you're not packing on the extra ten pounds of doo-doo either. LOVELOVELOVE